Custom Lists
Custom lists are an in game feature which allows players to make their own role lists. They can also exclude roles from the list, set a player minimum, and name their list. They were added in response to the Camp Cadaver Patreon receiving 100 dollars in donations a month, which was a goal reward.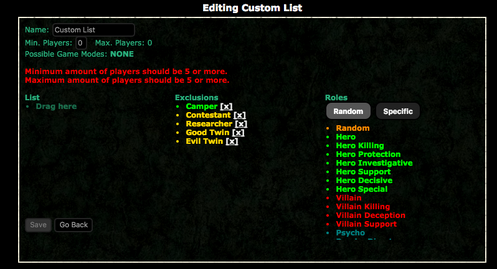 Functions
You can have 5 custom lists per account
Custom Lists do not count towards win/loss counts, achievements, etc.
Your list can be named with up to 15 characters (including spaces)
They are in a separate tab than Official Lists.
Community Lists
Community Lists are custom lists that were specifically chosen to become Community Lists. Currently, there is no automated system to put Community Lists in. To get a list to be chosen, you need to specifically request on the Camp Cadaver discord to have it put in.
Functions of a Community List that differ from a Custom List:
It is in a separate tab from both Custom Lists and Official Lists
Community Lists count towards win/loss counts, achievements, etc.
Current Community Lists
Unspecific by meoryou
Hero
Hero
Hero
Hero
Psycho
Outcast
Hero
Bystander
Hero
Hero
Psycho
Hero
Bystander
Outcast
Psycho
Excluded Roles: Camper, Villains
DDLC by Just Monika
Idol
Hero
Hero
Hero
Class Clown
Coward
Hero
Slasher
Hero
Hero
Rioter
Hero
Outcast
Bystander Change
Hero
Excluded Roles: Camper